Man detained after 'petrol incident' outside Houses of Parliament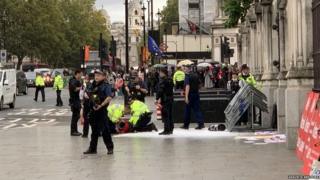 A man has been restrained by police after attempting to set fire to himself outside the Houses of Parliament.
The Metropolitan Police said a man had been detained under the Mental Health Act after covering himself "in what appeared to be a flammable liquid".
The police said the man, who had a lighter, had been sprayed with a fire extinguisher and there were no flames.
Tory MP Huw Merriman, who witnessed the episode, praised the "incredibly brave response" from the police.
The Met confirmed there had been an incident in which a man had "doused" himself with an unknown substance outside Carriage Gates – the main entrance to Parliament.
The police said there had been no reported injuries and the man had been taken to hospital after being examined at the scene by the emergency services.
The London Fire Brigade, it added, had made the scene safe by dispersing the suspected flammable liquid.
'Cry for help'
Eyewitness Assunta Andrews, a Brexit supporter who was protesting outside Parliament at the time, said the man had scattered sheets of paper everywhere before dousing himself.
"There was a man standing next to us, very close," she told the BBC.
"He had a large one and half litre bottle, opened it and started spraying it around. We really smelt petrol. So we all just ran for it, leaving all our posters behind, and calling for the police to come."
The police arrived on the scene within seconds, she said, while she got a small amount of petrol on her clothes as a result.
She said she believed the protest had nothing to do with Brexit and the man was trying to draw attention to a "personal" dispute with a local council over a parking fine.
"They were clearly a cry for help," she said of the leaflets.
The Commons and Lords are sitting this week despite the Conservative conference continuing in Manchester – after MPs voted against a short recess for the event.
Chancellor Sajid Javid is currently answering Treasury questions while ministers will later answer Urgent Questions on the government's latest Brexit proposals, as well as homelessness and Yemen.
detained
,
Houses
,
incident
,
man
,
Parliament
,
petrol