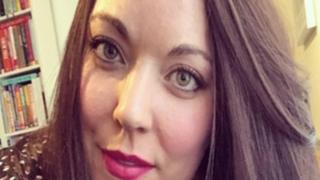 A man who beat his fiancée to death when he was "unwilling to accept" her decision to leave him amid a row over his cross-dressing has been jailed.
Roderick Deakin-White used a metal bar to launch a "savage" attack on Amy Parsons at their Whitechapel flat in April.
A trial at Snaresbrook Crown Court heard "jealous" Deakin-White attacked Ms Parsons as she was showering.
He was convicted of murder and sentenced to a minimum of 17 years.
The court heard Ms Parsons had become increasingly unhappy with her relationship, particularly due to Deakin-White's cross-dressing interest.
Prosecutor Gareth Patterson QC said: "She was unhappy about this and this was something he had often wanted to do when they were intimate."
Judge John Lafferty, sentencing, said Deakin-White killed Ms Parsons in a "most horrendous, savage and brutal way".
He told jurors Deakin-White became angry and jealous after Ms Parsons began a relationship with a colleague a few weeks before the killing.
Mr Patterson added: "Unwilling to accept that she was going to leave him, he used a metal bar to hit her repeatedly around the head while she was showering."
Deakin-White fled the flat before confessing to a man in Edmonton, who persuaded him to hand himself in.
In police interviews Deakin-White admitted attacking the 35-year-old with a metal bar but denied murder, claiming it was an "accident".
'Bright light'
At his sentencing, Ms Parsons' sister, Eve, spoke of her family's grief and described her as the "bright light" of the family and a "beautiful person".
"Nothing could have prepared me to deal with this loss," she said. "All of our family are as heartbroken as it is possible to be."
Judge Lafferty told the 38-year-old killer: "Your view was that if you can't have her, no-one can have her, and you killed her.
"There is no sentence I can pass upon you today that will bring back Miss Parsons – a young, successful, vivacious and kind-hearted young woman, whose life was brutally taken by you."
Speaking after the hearing, Eve Parsons, 40, said her family was "disappointed" by the length of the jail term and would be lodging an appeal.
"Seventeen years does not do her justice," she added.
bed bug exterminator stockwell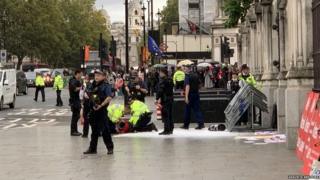 A man has been restrained by police after attempting to set fire to himself outside the Houses of Parliament.
The Metropolitan Police said a man had been detained under the Mental Health Act after covering himself "in what appeared to be a flammable liquid".
The police said the man, who had a lighter, had been sprayed with a fire extinguisher and there were no flames.
Tory MP Huw Merriman, who witnessed the episode, praised the "incredibly brave response" from the police.
The Met confirmed there had been an incident in which a man had "doused" himself with an unknown substance outside Carriage Gates – the main entrance to Parliament.
The police said there had been no reported injuries and the man had been taken to hospital after being examined at the scene by the emergency services.
The London Fire Brigade, it added, had made the scene safe by dispersing the suspected flammable liquid.
'Cry for help'
Eyewitness Assunta Andrews, a Brexit supporter who was protesting outside Parliament at the time, said the man had scattered sheets of paper everywhere before dousing himself.
"There was a man standing next to us, very close," she told the BBC.
"He had a large one and half litre bottle, opened it and started spraying it around. We really smelt petrol. So we all just ran for it, leaving all our posters behind, and calling for the police to come."
The police arrived on the scene within seconds, she said, while she got a small amount of petrol on her clothes as a result.
She said she believed the protest had nothing to do with Brexit and the man was trying to draw attention to a "personal" dispute with a local council over a parking fine.
"They were clearly a cry for help," she said of the leaflets.
The Commons and Lords are sitting this week despite the Conservative conference continuing in Manchester – after MPs voted against a short recess for the event.
Chancellor Sajid Javid is currently answering Treasury questions while ministers will later answer Urgent Questions on the government's latest Brexit proposals, as well as homelessness and Yemen.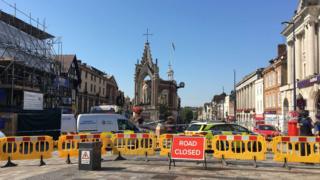 Four people have been charged after a man was stabbed to death in Maidstone.
The 21-year-old London man died in the town centre following a disturbance in the High Street at 03:00 BST on Sunday.
The four, also from London, have been charged with violent disorder and are due before Medway Magistrates' Court later.
Kent Police said inquiries remained ongoing and anyone with information about the attack should contact the force.
Those charged are: Yussef Abdi Aweys, 19, of Lightfoot Road, Crouch End; Darien Thompson-Cox, 21, of Raleigh Road, Hornsey; Mohamed Abdurahman, 23, of Newland Road, Hornsey and Nathaniel Small, 22, of Boyton Road, Crouch End.